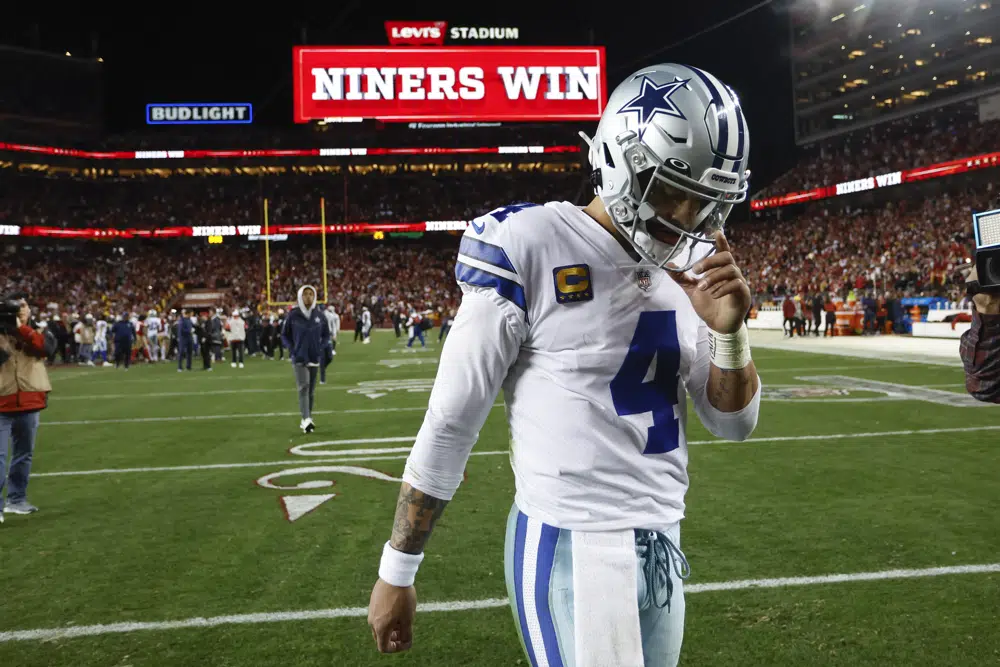 Twenty-seven years now, and counting. It's been 27 years since the Dallas Cowboys last won a divisional round playoff game. The only NFL teams you can place in that category with Dallas are the Dolphins, Lions, Browns, and Deadskins. That's some mighty fine company there.
A few observations, please, from Sunday's 19-12 playoff loss to the 49ers and their rookie quarterback:
The very first play of the game was a ten yard holding penalty against the Cowboys. Of course.
The Cowboys scored six points in the first half and six points in the second half. This, from the NFL's highest scoring team with a $160-million quarterback. Dallas went 5-15 on third downs. This kind of offensive production wouldn't beat Texas A&M-Commerce.
Speaking of Dak, he threw two interceptions Sunday, more than any Cowboys quarterback in any playoff game since 1998. He had at least two other balls bounce off the chests of 49ers defenders. Prescott led the league in picks this year, even while missing five games with an injury. He can't read a simple zone defense. He doesn't make good decisions under pressure.
Brock Purdy is a rookie. He was the 262nd pick in the draft – dead last. When the Niners picked Purdy, the draft ended. At Thanksgiving dinner this year, he had never taken one snap in an NFL football game. Now he's won the same number of playoff games Dak has won in his seven year career and the same number of postseason games Tony Romo won in his 14 year career. And he's already done something neither of those quarterbacks ever did: advance to the conference championship game. Purdy's first playoff game was eight days ago.
The Cowboys defense allowed this rookie quarterback to drive his team 91-yards for a crucial second-half touchdown. The Cowboys offense had the ball at the Dallas 18 with 3:00 to play, down by seven, with all three timeouts. They went three-and-out. Two Dak incompletions and a Dak sack.
The Cowboys offense averaged 27.5 points per game this season. That many points wins this game. The 49ers gave up an average of 16 points per game this year playing the NFC West. The Cowboys couldn't even reach that.
After the game, Mike McCarthy told reporters this Cowboys team was "factually" better than last year's team. "On paper," he said, this season was a step forward from last season. Okay. I suppose. Dallas won one more game than last year, they advanced one round further in the playoffs, and maybe the last play of the game Sunday was slightly less embarrassing than the play that eliminated the Cowboys the year before. That's only if you consider Dak running up the middle with 14-seconds left and no timeouts and handing the ball to his center instead of the referee as time expired a little worse than whatever that play was the Cowboys rolled out there Sunday. Zeke snapping the ball from center and having to be declared an ineligible receiver, all the linemen spread out beyond the hashmarks, Dak throwing a seven yard pass to a punt returner, and the whole thing blowing up in two seconds. It looked like something Kellen Moore drew up on the back of his notebook during a sophomore English class in high school.
Dan Quinn is surely gone. He'll be wearing a different colored hat backwards for somebody else next season. Kellen Moore will surely be gone. You can't score twelve points in a divisional playoff game and keep your job. Zeke might be gone. You can't pay that much money for a pass blocker and short yardage expert. Tony Pollard won't be the same after his fractured tibia. The only certainty with this team is that Dak will be back. He's counting $50-million against the cap in 2024.
At least three times on Sunday, the television broadcasters said something to the effect of if Dak can win today he will solidify his legacy as a Cowboys quarterback, he'll be established as a Cowboys legend. What?!? By just getting his team to the NFC Championship Game? My, how the bar has been lowered! The standard for this once proud franchise has been completely erased. I remember a time when Danny White took the Cowboys to three straight NFC Championship Games and we hated him for it! He couldn't win a Super Bowl. That used to be the standard. Now, Cowboys fans tout a road playoff win over an 8-9 Buccaneers team as success.
This is a second-place franchise that got to the divisional round by beating the disinterested 45-year-old quarterback of a team with a losing record in the wild card game. When the Cowboys go up against real teams, with real coaches, and real quarterbacks, with real stakes on the line, they turn the ball over, commit costly penalties, and score twelve points. This is what they are.
I don't know why the Cowboys still have so many fans. It's stupefying. This is an over-hyped, do-nothing football team, and has been for 27 years. The foundation of this once proud franchise has been totally destroyed by an owner who's sold a sacred public trust down the river for his own wealth and power and ego. There is no continuity between the Cowboys who consistently played for conference and league titles every season for thirty years and what we've been watching now since 1996. The Cowboys are the Lions, Browns, Dolphins, and Deadskins.
And Jerry Wayne will still be the owner and Dak will still be the quarterback in 2024. And 2025. And 2026.
~~~~~~~~~~~~~~~~~~~~~~~~~~~~~~~~~~~~~~~~~
Happy Birthday today to our middle daughter who was born 54-weeks AFTER the last Dallas Cowboys divisional playoff victory. Valerie Nicole is 26 today. She's learned to walk and talk, she's gotten a driver's license, she's earned a college degree, and gotten married all since the Cowboys last won a divisional playoff game.
Peace,
Allan