This team is fun to watch, huh? Oh, my gracious! The Texas Rangers both pitched and slugged their way to a Game Seven blowout in Houston last night and are heading back to the World Series for the first time since 2011! Adolis Garcia put the finishing touches on an historic ALCS by hitting two homers and driving in five runs to win the MVP and propel Texas to its third Fall Classic. Bruce Bochy pulled all the right levers and pushed all the right buttons in getting five innings out of Mad Max and Monty. And the offense torched the Astros pitching for 15 hits, four home runs, and eleven runs in the pennant clinching victory.
The Rangers are on quite an unlikely run here. When they dropped three out of four in Seattle to close out the season, losing the AL West title to Houston via the tie-breaker on the last day, nobody stood up and said, "Well, look out. The Rangers are going to sweep Tampa Bay on the road, and then sweep the O's in Baltimore, and then beat the Astros in Houston, and then play in the World Series." Nobody said that. Nobody outside the Rangers clubhouse thought that.
Man, this team just flat out refuses to quit. As Bochy says, they keep getting knocked down and they keep getting right back up. He says he's never seen anything like it, and I know I haven't. Just when you think it's over — I know I've personally played Taps for this team at least three times since Labor Day — they go on a tear and destroy whatever is in their path. It is straight up shocking to me that they have overcome the devastating injuries, their gas can bullpen, and their excruciating losing streaks to accomplish so much so early in Chris Young's rebuild. This is some ride!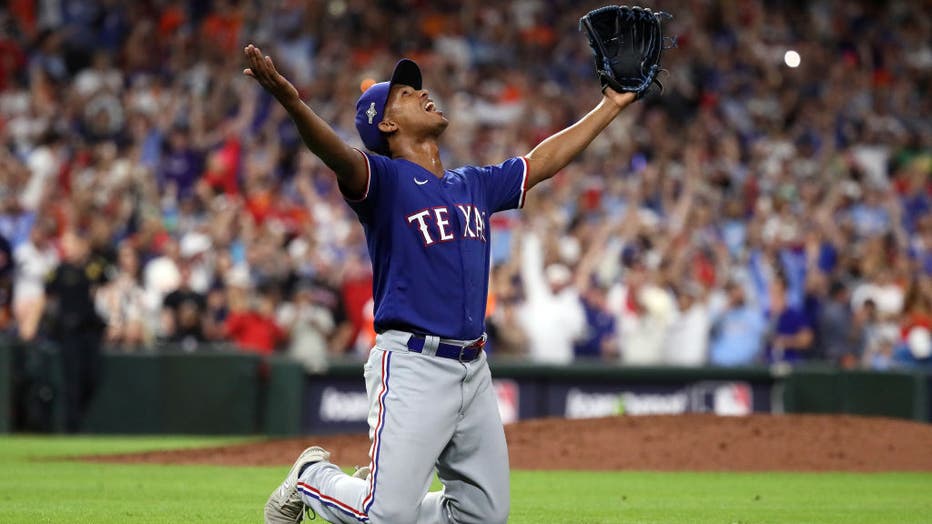 I don't know if winning leads to great team chemistry or great team chemistry leads to winning. I don't know what causes some clubhouses to gel in such a way that all egos take a back seat to whoever is batting next and the preferred pronouns are "we" and "us." Whatever it is, this Rangers team has it. Young has put together the perfect mix of young energetic talent and seasoned experienced veterans, and he hired the perfectly even-keeled and relentlessly driven master to run it.
And it is so much fun to watch.
I'm assuming the number on Hedgie's rear end is "4."
The internet says my ALCS Championship t-shirt will arrive Thursday. The opening game of the World Series against either the Phillies or the Diamondbacks is Friday. And today? Today is talking a little too loudly on the phone with friends and family about the game, about this season, about the memorable highs and lows of seasons past, and daring to dream about the next week and a half. Today is receiving reluctant congratulatory texts and emails from my many friends, mostly here in Midland, who cheer for the Astros. Today is a wonderful, beautiful, amazing day.
Peace,
Allan